Argan oil is an effective natural alternative to chemical laden beauty and skin products you may have purchased in the past. It is rich with Omega-6 fatty acids, Vitamins A and E, linoleic acids and other antioxidants.
These combine to dramatically reduce the incidence of acne, as well as the scars from acne and stretch marks, inflammation of the skin and the fine lines which may appear as we age.
The little argan nut is a native to Morocco's Argan Forest and for generations has provided a precious oil used for healing wounds, skin care and to nourish hair, and as a rich dietary supplement. The argan nut tree is deemed so beneficial that the Argan Forest was named a "Biosphere Reserve" by UNESCO in 1998.
A visit to the Argan Forest will let you observe goats climbing the trees to reach and dine on the nutritious nuts. Now, argan oil can be found all over the world; used by both men and women, and considered by many to be the ultimate, natural moisturizer for hair and skin.
Use as a Body Scrub or Exfoliator for Beautiful Fresh Skin
Use argan oil as an all-over exfoliator by mixing a mere drop or two of the oil with a tablespoon of sea salt or leftover coffee grounds,. Then, rub into your face very gently (or other areas of the body) in a circular motion for a couple of minutes. Rinse and pat dry.
Used regularly, argan oil will remove dead skin cells and lessen the appearance of wrinkles, fine lines and age spots. Your complexion will show improvements that expensive synthetic cosmetics cannot provide.
Argan Oil Hair Treatment
Don't forget your hair when using argan oil. It's completely non-greasy and perfect to leave on your hair as a conditioner – you don't even need to rinse. You can say goodbye to split ends and frizzy curls and make your hair easier to style while keeping your scalp healthier.
Some skin care companies use argan oil as a component in their hair and skin care products, but the best way to use it is in its purest form.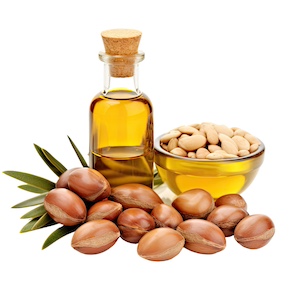 You only have to use a minimal amount of argan oil (one or two drops) to provide the nourishment your hair and skin needs for the entire day.
Use it as a skin toner and day and night time moisturizer to leave your skin feeling fresh and clean. Argan oil absorbs into your skin quickly and doesn't leave an oily residue.
Treat Acne Naturally
Argan oil can help to reduce the devastating effect that acne can have on your skin. It's been proven to lessen the sebum levels for those with oily skin and the linoleic acid in the argan oil helps to reduce the inflammation caused by damaging skin conditions.
One word of caution when purchasing argan oil – beware of products which dilute the argan oil with cheap ingredients that won't provide the same quality as pure argan oil. The low-quality oil won't have the nutrients you expect in the pure product and won't give you the same results.
Pure argan oil is certainly more expensive – but worth every penny when you see the results it provides.
The products below are my recommendations and are based on my genuine opinions and experiences. I only suggest products or services that I believe can benefit you. Some of these links are affiliate links. This means that if you click on the link and make a purchase, I may receive a commission at no extra cost to you.
Last update was on: 28/11/2023 3:56 AM